Two Special Events Coming Up
Here is a quick update on two events coming up.
Let's Make This Wasteland Bloom this Saturday, 3/25. Updated schedule!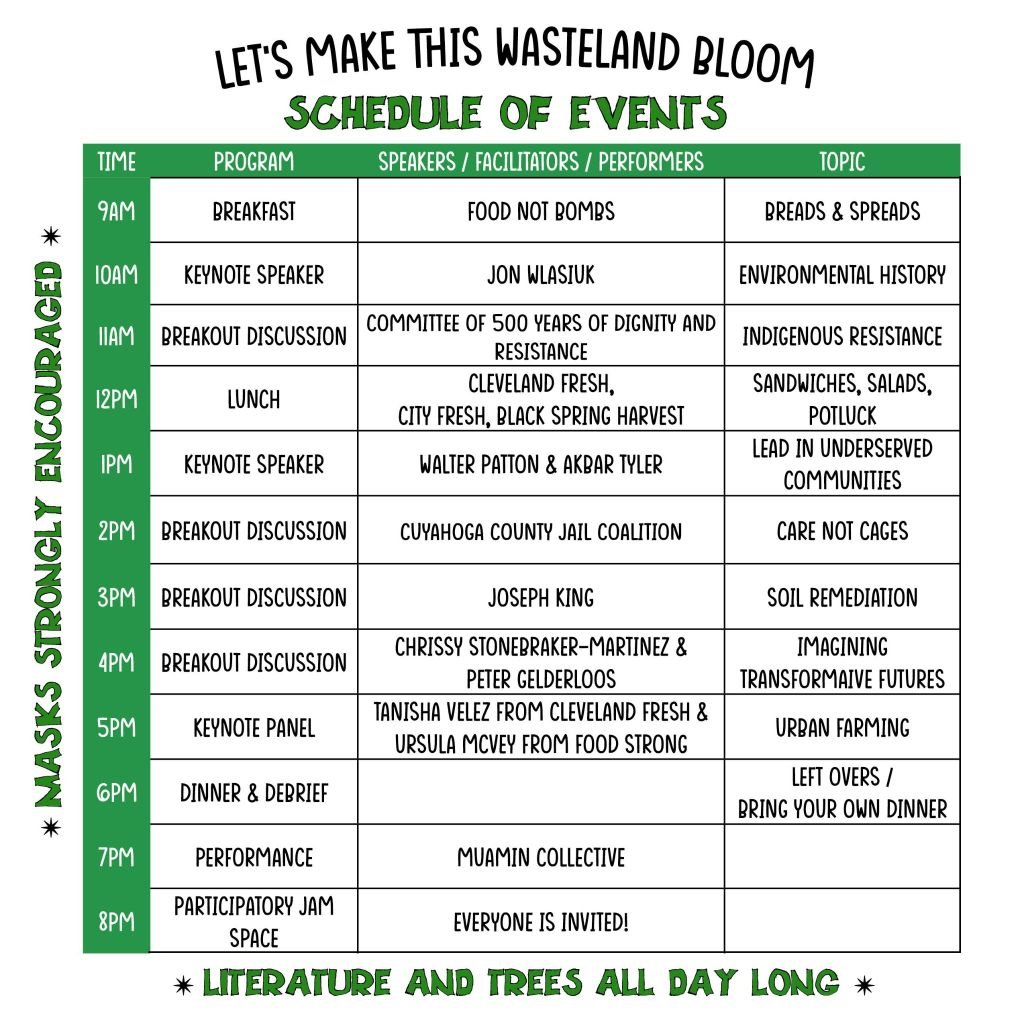 Schedule for Saturday.
Come When you Can, Stay as long as you'd like!
9am - Breakfast - Food Not Bombs
10am - Keynote Speaker - Jon Wlasiuk on Environmental History
11am - Breakout Discussion - Committee of 500 Years of Dignity and Resistance on Indigenous Resistance.
12pm - Lunch - Cleveland Fresh, City Fresh, Black Spring Harvest
1pm - Keynote Speaker - Walter Patton & Akbar Tyler on Lead in Underserved Communities
2pm - Breakout Discussion - Cuyahoga County Jail Coalition on Care Not Cages
3pm - Breakout Discussion - Joseph King on Soil Remediation
4pm - Breakout Discussion - Chrissy Stonebraker-Martinez & Peter Gelderloos on Imagining Transformative Futures
5pm - Keynote Panel - Tanisha Velez and Ursula McVey on Urban Farming
6pm - Bring Your Own Dinner Debrief (leftovers if avaialble)
7pm - Performance - Maumin Collective
8pm - Participatory Jam Space - Everyone!

In our daily lives and in the work we each do, we have encountered this crisis. We know its contours and we know many of the ways it affects us. The mainstream conversation around the crisis, when it is even acknowledged, tends to put it into so many boxes.
Is this a climate crisis or a food crisis? A housing crisis or a health crisis? A crisis of racism or a crisis of police violence? A crisis of borders and migration, of education, of democracy?
We know it is all these things and more. That's why we want you to take part in moving forward a conversation that is intended to build relations, to share resources, and to spread awareness about what each of us are doing to tackle this crisis from where we stand.
Folk Punk Show and Potluck Tuesday, March 28th!!
Join us for our monthly community potluck at 6:30pm.

Following the Monthly Potluck We Will Be Hosting a Show Featuring Parking Lot Bandits and Looter from Indianapolis

Meet collective members, pitch your event, learn how to get involved with the RZH.


Copies of the April calendar will also be on hand to distribute in your community :)