Events: Starlight Elsewhere, Slime Making, Make This Wasteland Bloom, Parable of the Sower reading group!
Hey Rhizome Community,
Lots of stuff happening. We hope to see you at the space soon!
---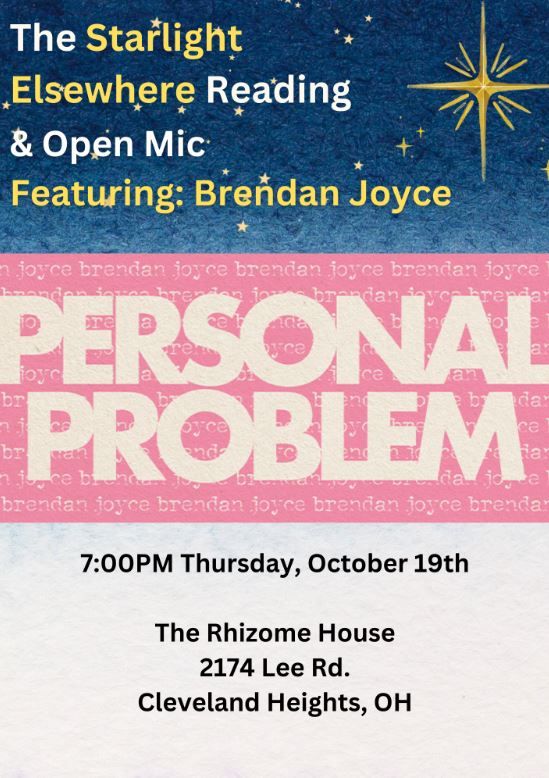 The Starlight Elsewhere Reading and Open Mic, featuring Brendan Joyce
This Thursday October 19th, 7pm

Come celebrate the release of Brendan Joyce's second collection of poems Personal Problem and bring poems for the (potentially) eternal open mic (you never know). There's no cover change and no list, and we'd love you to share in community with us around art. Please take a COVID test before coming and remember a mask.
---
Slime-making at Cedar Lee Candy Crawl this Saturday 10/21 - We want your candy (and help)!
Every year hundreds of kids come to the Cedar Lee candy crawl - happening this Saturday October 21st
We'd love your help handing out candy and making slime from 5-7pm. Hope you can make it!
---
THIS WEEKEND!
Let's Make This Wasteland Bloom:
‌
This past March, we held the first gathering of Let's Make This Wasteland Bloom. So many connections were made, so many conversations were started, that we're doing it again this fall! We'll be opening the doors of the Rhizome House to gather again this weekend. We hope you can join us!
---
Other happenings:
10/23 6:30pm - Anarchist reading group continues reading The Parable of the Sower
10/31 - Halloween Potluck! - Feel free to dress up, bring your favorite dish and join us for dinner! Doors open at 6:30p and family-style dinner starts at 7:15p.
Wednesdays 5:30pm - Safer Use Society! More info here.
Sundays 1-4pm: Open Hours!