Let's Make This Wasteland Bloom RSVP & No Starlight Elsewhere!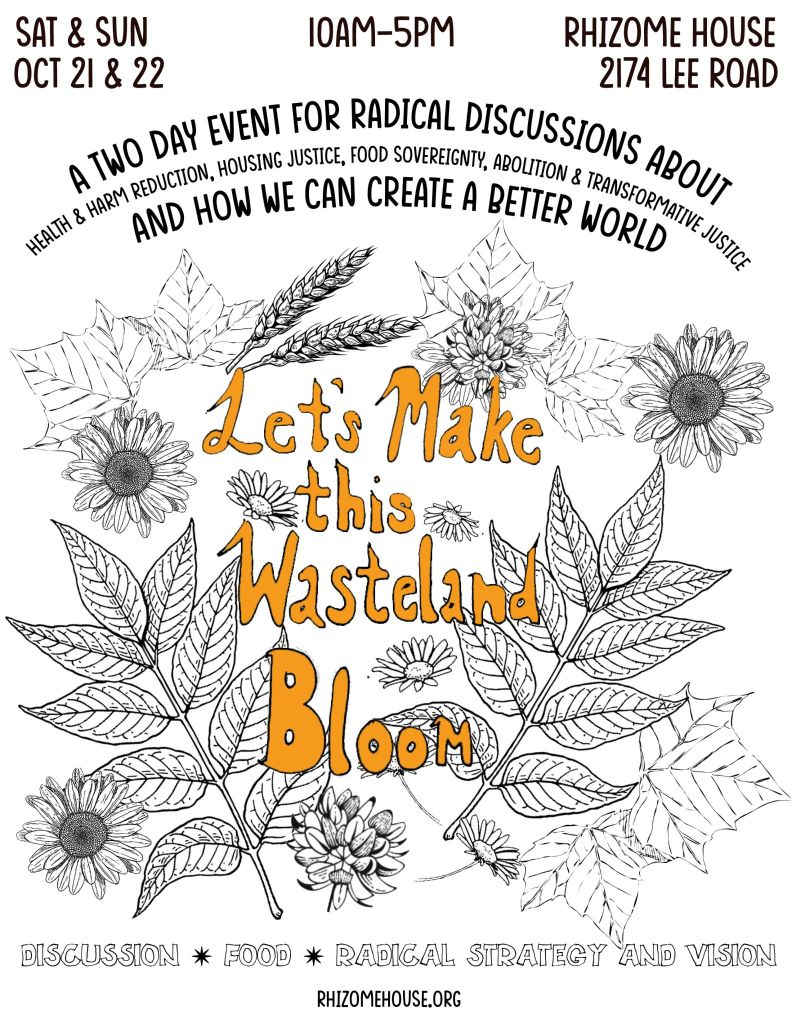 This past March, we held the first gathering of Let's Make This Wasteland Bloom. So many connections were made, so many conversations were started, that we're doing it again this fall! We'll be opening the doors of the Rhizome House to gather again the weekend of October 21 and 22. This time, we want to be intentional about having the time to deepen our connections and imagine different directions our struggles could go in. To that end, we will have four different conversations, morning and afternoon, Saturday and Sunday, to focus on abolition and transformative justice, food sovereignty, housing justice, and health and harm reduction. We hope to frame all of these struggles in an anticolonial, anticapitalist way, while strategizing about what resources we could build together or how to break out of single-issue focuses, connecting our different needs, histories, and capacities. Most of all we want to imagine together what our better worlds look like and how we find a path from where we are right now to those worlds. 
Feel free to come to one discussion or to all four, but please come ready to speak and listen in a respectful and grounded way. Help us all refine our collective visions. There will be lunch each day between the two discussions. Please RSVP so we know how much food to prepare, and to help the facilitators know what group sizes to expect. And if you need childcare, we would love to have you, but let us know far enough in advance so we can organize it! 
We're looking forward to seeing you there! 
-organizing group, Let's Make This Wasteland Bloom, fall 2023
---
Update: Starlight Elsewhere open mic has been cancelled tonight - we'll be back next month.

Attend Literary Cleveland's Inkubator instead and wear a mask <3!
---
Reminder: No open hours this Sunday 9/24.

Join us at our Community Potluck instead!

Tuesday, September 26th @ 6:30pm!!
Join us for our monthly community potluck.
Meet collective members, pitch your event, break bread with us, learn how to get involved with the RZH.

Bring your favorite thing to share.

Copies of the October calendar will also be on hand. Grab a few to leave in your community!
---
Other events happening at The Rhizome House:
-Monday, September 25th @ 6:30pm - Dawn of Everything Reading Group
-Tuesday, September 26th @ 6:30pm - Community Potluck
-Wednesdays @ 5:30pm - Safer Use Society: Weekly alternative recovery meeting for folks who may find that traditional 12 Step programs don't work for them. All are welcome including those still actively using.
-Sunday, September 30th @ 1-5pm - Nightlight Books Pop-up and Open Hours!