EVENT CANCELLED but Join us Thursday for 2 events!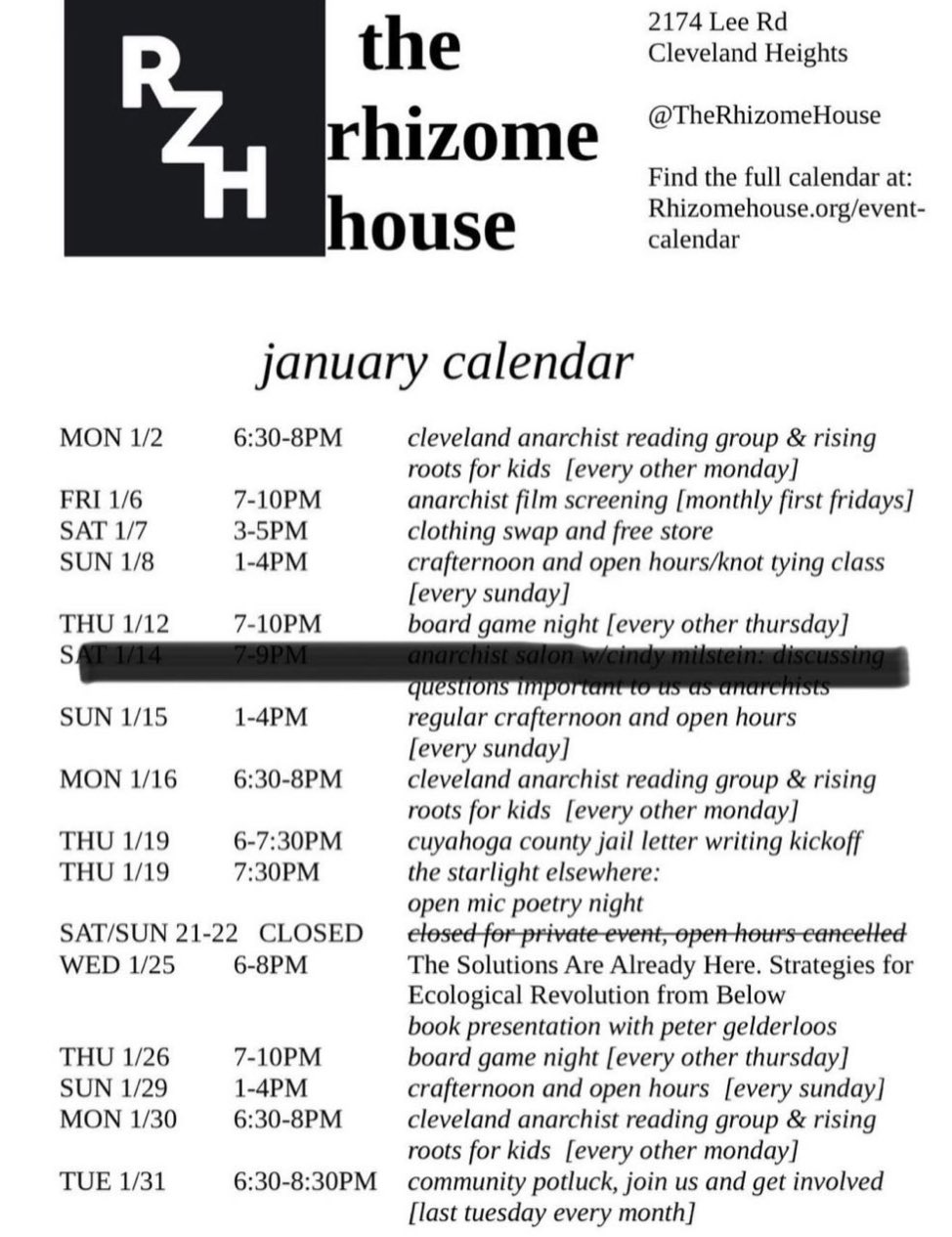 Hey all, here is our updated calendar for the month. Just a heads up the event Saturday, 1/14 (tonight if you are reading our email!) is cancelled!
Some good news though- we have two awesome events on Thursday for you to check out.
Thursday, 1/19 6:00pm
Cuyahoga County Jail letter writing kickoff
We will meet to write letters to people stuck in the Cuyahoga County Jail. We will discuss best practices for letter writing, talk about questions, and have a list of names. Food provided (vegan friendly).
Thursday, 1/19 7:30pm (doors)
RZH kicks off the new monthly poetry & open mic night:
Starlight Elsewhere.
Every third Thursday. Join us for art and feelings.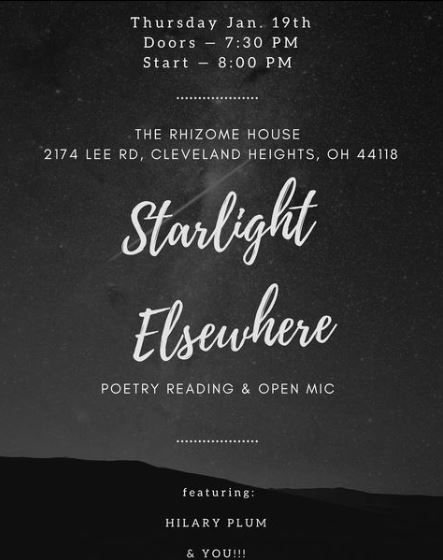 We also have our regularly scheduled events:
Open hours this Sunday 1-4p
Anarchist reading group Monday 6:30pm
Thanks to everyone who came out to the knot tying skill share last Sunday. Have ideas for other skill shares? Get in touch!
Some other events to keep in mind:
Wednesday 1/25, 6pm
The Solutions are Already Here Discussion
Our ecological crisis goes beyond just the question of climate and technology. It is rooted in colonialism and entangled with food security and healthcare; borders and migration; Indigenous sovereignty and knowledge; gentrification, housing rights, and questions of who owns the land; our relation to one another and to all other forms of life. The ecological crisis is also a social and political crisis. Rhizome House is hosting a presentation with Peter Gelderloos, the author of The Solutions Are Already Here: Strategies for Ecological Revolution from Below. We will unpack many of the false and misleading narratives around climate change that are designed to pacify us, and explore the connections between all the interrelated social issues we are facing. We are hoping this conversation will be a first step towards strengthening the connections between the organizing we are all doing, moving towards a vision and a practice of effective solidarity and the creation of real alternatives in the face of this unfolding disaster.
*Also a reminder to join our potluck on 1/31, the last Tuesday of every month, to eat some food and build community.*