Upcoming Events at Rhizome.

Support the Rhizome - Open Hours Sign Up!
Rhizome House is taking volunteers to join us during open hours on Sundays. Hang out with a collective member, learn more about your radical social center.
Our goal is to co-create a space for people to form social connections around mutual aid, discussion, reading groups, game/movie nights, various other radical project work, and, perhaps most importantly, just hanging out together.

We appreciate your time, support and solidarity.
---
Liberation Theology
Tuesday, July 18th @ 7pm: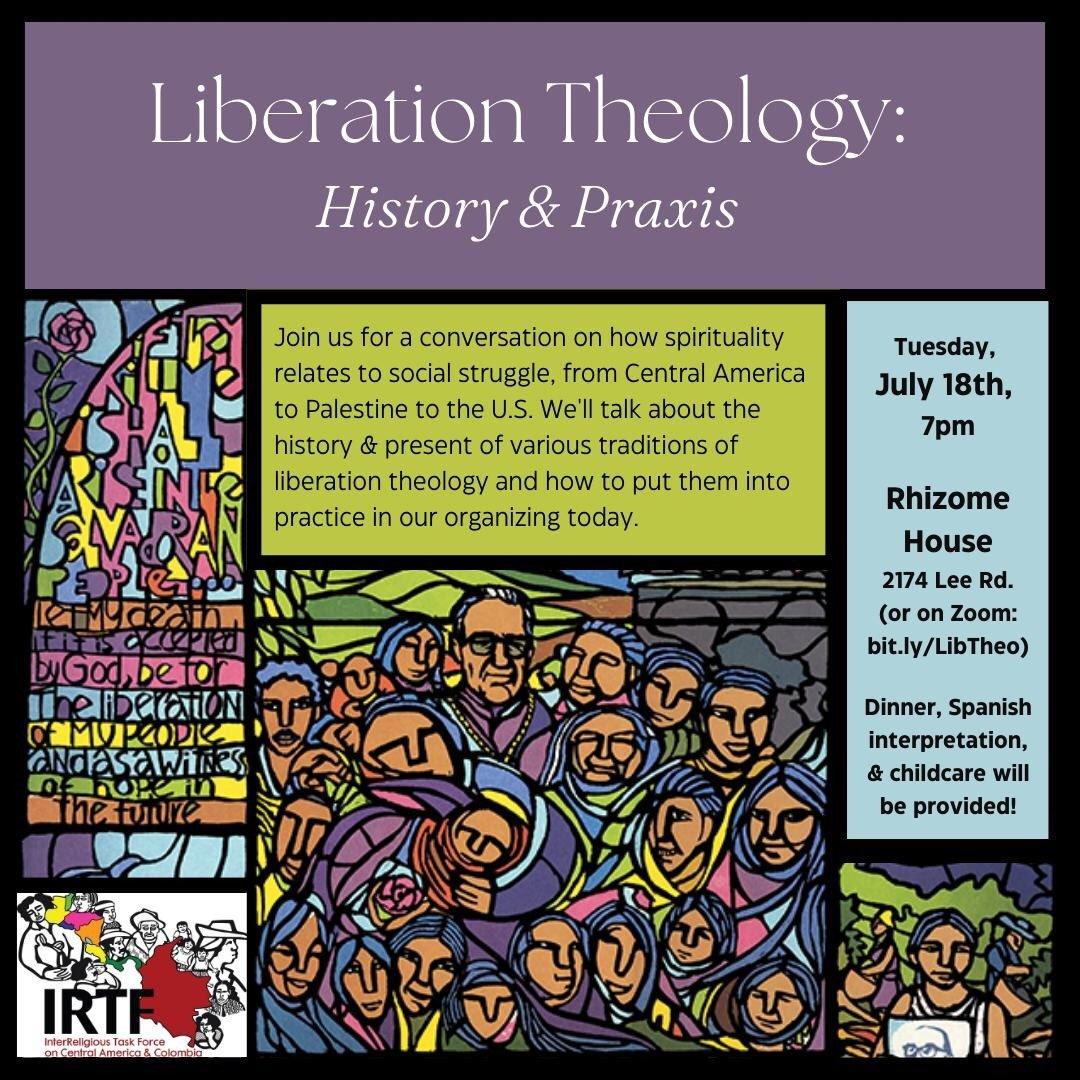 ---
Community Potluck
Tuesday, July 25th @ 6:30pm!!
Join us for our monthly community potluck.
Meet collective members, pitch your event, break bread with us, learn how to get involved with the RZH.

Bring your favorite thing to share.

Copies of the August calendar will also be on hand. Grab a few to leave in your community!
---
SPECIAL EDITION - Open mic, book release party, and swing dance.
Starlight Elsewhere
Friday, July 28th @ 7:00pm:
Join us for a special edition of Starlight Elsewhere where the poets go swing dancing on Fridays. Jill Mceldowney, Julia Kolchinsky Dasbach, and Ross White read from their new poetry collections while we eat cake, followed by the potentially-eternal poetry open mic. After the poems are done we'll do a basic swing dancing lesson followed by an hour of dancing to some tunes. Bring yourself, bring your friends, bring your poems (multiple poems are allowed on the open mic), and above all else--bring your dancing shoes.
---
Other happenings
Monday 7/17 & 7/31 @ 6:30p - Dawn of Everything reading group
Sundays @ 1-4p - Open Hours & Skill Shares (have an idea - let us know!)
Wednesdays @ 5:30-7:30p - Safer Use Society is a weekly alternative recovery meeting for folks who may find that traditional 12 Step programs don't work for them. All are welcome including those still actively using.
---