Update - Rest in Power Tortuguita Memorial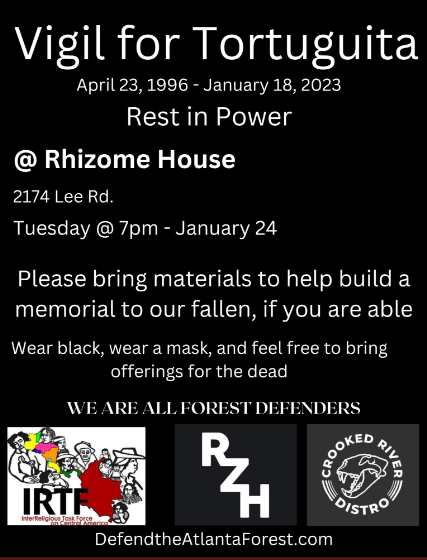 Update: We will gather Tuesday 1/24 at 7pm to celebrate the life of forest defender Tortuguita who was murdered by the state. 2174 Lee Rd, Cleveland Heights.
Wear black and a mask. Bring altar materials if you wish to help construct one.
Want to learn more about RZH?
-Stop by our community potluck next Tuesday, 1/31 at 6:30pm.
-We also have board game night this Thursday at 7pm, drop-in hours Sunday at 4pm, and reading group next Monday at 6:30pm.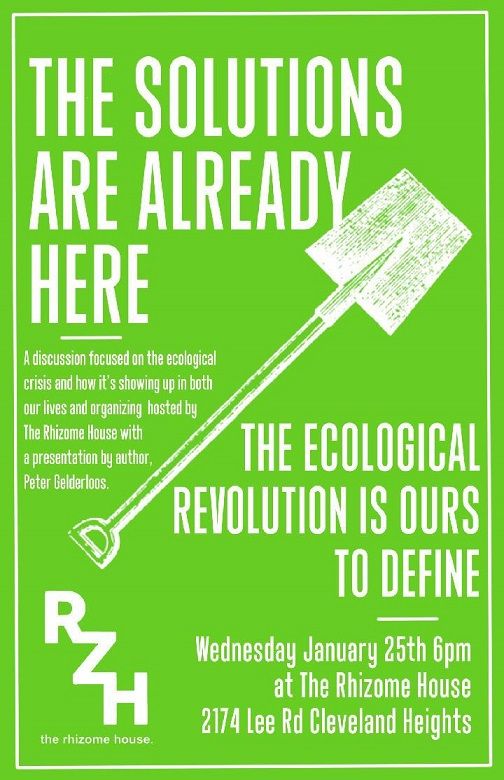 Reminder: Wednesday 1/25 6pm - The Solutions are Already Here book talk
The Rhizome House is hosting a discussion on the ecological crisis and how it's showing up in our lives and our organizing.
The media, politicians, and NGOs bombard us with messaging that can lead to a number of misleading conclusions:
Environmental concerns are irrelevant to people who live in the city. Climate change can be entrusted to the experts who are developing alternative energies, new technologies, and effective regulations. Climate change, food security, racism, borders, etc. are all separate issues.
In fact, we know that the ecological crisis goes beyond just the question of climate and technology. It is rooted in colonialism and entangled with food security and healthcare; borders and migration; Indigenous sovereignty and knowledge; gentrification, housing rights, and questions of who owns the land; our relation to one another and to all other forms of life. The ecological crisis is also a social and political crisis.

Together we can unpack many of the false and misleading narratives around climate change that are designed to pacify us, and explore the connections between all the interrelated social issues we are facing.
It's no coincidence that those in power teach us to wait for new government regulations and corporations marketing new technologies to save us. In fact, all of our initiatives and our daily organizing for survival and social justice right now are actually the seeds of the most effective, profound response to the ecological crisis. And what we most need to do is to take the next step of connecting and building our collective intelligence.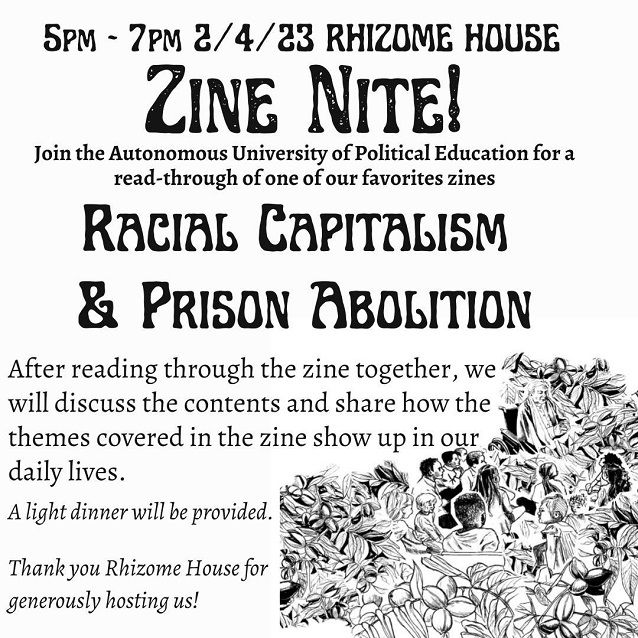 Save the date - Saturday 2/4 5pm
Racial Capitalism and Prison Abolition Zine Nite!