October Events. Also beds.. read on
October Calendar!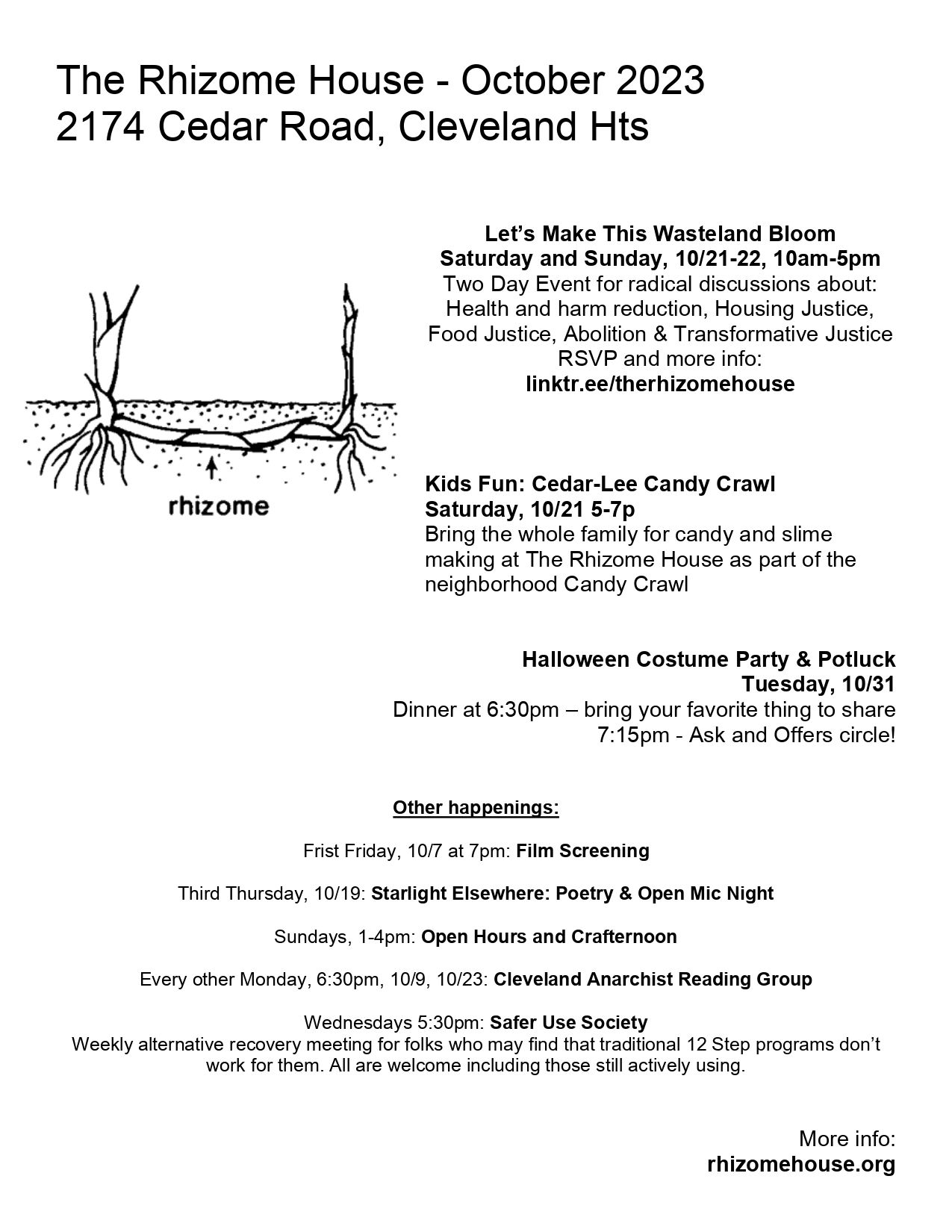 Another good month of happenings at RZH. We hope to see y'all here!
Text version of our calendar is available here.
---
RSVP for Let's Make This Wasteland Bloom:
‌                                                                      
This past March, we held the first gathering of Let's Make This Wasteland Bloom. So many connections were made, so many conversations were started, that we're doing it again this fall! We'll be opening the doors of the Rhizome House to gather again the weekend of October 21 and 22. We hope you can join us!
---
Save the date - Cedar Lee Candy Crawl coming up - We want your candy (and help)!
Every year hundreds of kids come to the Cedar Lee candy crawl - happening this year on Saturday October 21st.
We'd love your help handing out candy and making slime on October 21st from 5-7pm. Hope you can make it!
---
September Asks and Offers:
At our potluck this week we started offering people space to share any needs or offers they have for the larger RZH community.
We have someone with 5 bed frames and mattresses that does not need them. If you need a bed please let us know!
There are many other asks and offers - like computer repair, photography and more. Come to our potluck next month to connect with the RZH community (10/31 - save the date!)
We don't need markets to meet our needs, we can start to build an alternative together.
---
Announcements:
--Thank you to our supporters:‌‌ We live in-and-against the money form.. until we abolish money we need to make rent.
We are looking for 60 people to donate $10 a month to cover rent. ‌‌The collective is still covering internet, insurance, and utilities. We'd love to cover those costs through small donations with your support.
Current status:‌‌$593 of $600 monthly rent. ‌‌‌‌Become a RZH supporter here!